I Wore These Lululemon Leggings to Run the NYC Marathon — and Now They're My Go-To
This past November, I ran the New York City Marathon. The day was one to remember, though there are a few details I'd be cool with forgetting, like how unreasonably hot the weather was or the fact that my toenails turned black from running 26.2 miles. (I could go on, but I won't.) But the day was one of my all-time favorites, too. It was so special seeing my friends and family cheering for sweaty me at points throughout the race and even cooler to run through the streets of each borough without having to dodge taxis. Another one of my favorite things about the race, admittedly, was being able to justify splurging on my new favorite workout leggings: the Lululemon Swift Speed High-Rise Tights ($128). Whether you're just starting your running journey or are a long-distance runner like me, they're perfect. Ahead, I'll explain why.
What I Like About the Lululemon Swift Speed High-Rise Tights
These leggings are crafted from the brand's super-compressive Luxtreme fabric, which is smooth, cool to the touch, and sweat wicking, all features I look for in my ideal pair of tights. What I love most about them is they feature a contoured waistband that firmly hugs your waist so that they stay put during your workout. My biggest pet peeve with leggings is when they slide down at the waist while I run; so that detail is what attracted me to this pair in the first place. (There was no way I was about to run nearly 30 miles straight having to pull my pants up every hundred feet.)
Another detail I love is that the seams are on the outside to eliminate rubbing, and I can confidentially attest that this matters more than you might think, especially if you're racking up high mileage. I'll admit: I didn't pay as careful attention to the sports bra I wore as I did my leggings, and it was clear to me that it wasn't designed for long distances. The fabric dug into my chest and has left me with literal scars! All of this is to say that while the outer seams may sound minuscule in theory, they're actually pretty major come mile 20.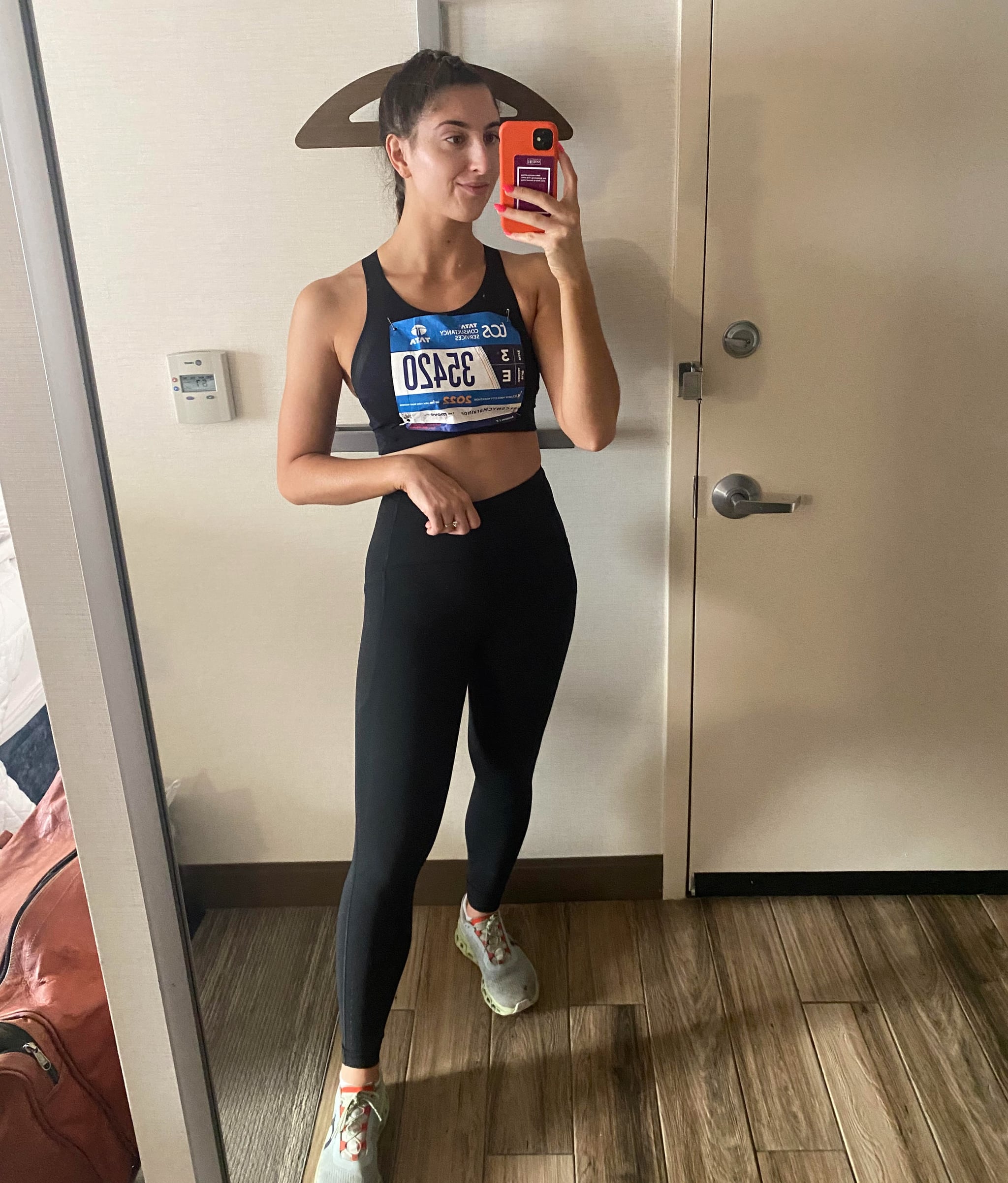 What's Worth Noting About the Lululemon Swift Speed High-Rise Tights
These leggings have a ton of five-star ratings and their fair share of critical ones. The most common complaint I noticed (after diligently studying the reviews) is that they're tight around the waist. What's interesting, though, is that — as discussed above — this detail is one of the features I love most about the silhouette. To be clear, they're definitely on the snug side, but I personally don't find the fit uncomfortable at all. I ordered my usual size six and found they run true to size.
Who Are the Lululemon Swift Speed High-Rise Tights Best For?
Speaking from personal experience, these tights are best for runners and gym-goers of all kinds who love compressive fabrics and hate when their leggings slip down mid-workout. In the weeks since the marathon, I've worn them to several OrangeTheory classes and have found that they're equally fabulous for lifting weights. The TL;DR: if you love a super-snug fit that doubles as a second skin, you won't regret adding these to your cart.
Additional Details
They have deep drop-in pockets that can easily fit a smartphone.
There's a zippered back pocket that's ideal for an ID, a credit card, or a key.
They come in eight different colors.
They come in sizes 0–20.
Choose from two different lengths: 25-inch and 28-inch.
Where Are the Lululemon Swift Speed High-Rise Tights Available?
The Lululemon Swift Speed High-Rise Tights are available on Lululemon's website.
Rating:
Image Source: POPSUGAR Photography / Marisa Petrarca
The post I Wore These Lululemon Leggings to Run the NYC Marathon — and Now They're My Go-To appeared first on Fashion News.
Products You May Like