How to Quit Your Life and Teach Yoga to Celebs
Wellness guru Anabella Landa, Dua Lipa's personal fitness and yoga instructor, is the secret behind the pop star's killer abs and headstands-in-heels prowess. Although Landa previously worked in experiential marketing, she became one of the pandemic's "quitters" and found her true passion in yoga, obtaining her certification virtually. Within months, she went from conducting classes on Zoom to teaching sunrise yoga on the beach. Now she's traveling the world for Lipa's Future Nostalgia Tour (how she met and started to train Lipa is a secret). On a recent video call, Landa sits in a white tank against a blue sky in Madrid. When the topic of conversation turns to wellness, Landa's face lights up; she talks faster, gesturing with her hands, as she excitedly explains her techniques. She calls herself an "energy sprinkler"—someone who "is always on and spreading laughter and good energy around the world." Below, she shares some tips and essential products to develop your own wellness routine, even when you're on the go.
On Being a Modern Yogi
"I did my training because I went through a really bad breakup, which led to a really bad depression, and then COVID hit. My breakthrough was doing my training, healing myself, and then helping others do the same. But it was bumpy as hell. Everyone assumes that when you are a yogi or you practice, you are like Buddha. That's not how it goes. You're still human, you still feel emotions, and you can still get angry. That's the part of being a modern yogi that I love and that I preach so much about. It's a type of duality that lives within us."
On Skin Care On the Go
"On tour, timing is crazy. My routine has shifted into something more practical. I cleanse, use my gua sha, hydrate, and obviously always wear sunscreen. I use EltaMD UV Glow Tinted Broad-Spectrum SPF 36, which doesn't leave my skin oily and is the perfect base for makeup. At night, I cleanse and then hydrate with moisturizer. I've been using rose water for the last three or four months—it's changed my skin. I carry it with me, and I just spray it all over my face. It feels hydrating, and I have a different glow to my skin now."
On her makeup routine
"I'm really into fresh skin. My staples are a good highlighter, blush, eyebrow makeup, and a tinted lip. I've been using a tinted balm by Elizabeth Arden that's the perfect pink color. And I love the Chanel blushes that have a little shimmer, like a pink with shine, because it adds a highlight."
On depuffing
"I like to use ice on my face before my skincare routine. My lymphatic drainage paddle is the one product I can't live without on tour. I dry-brush before I shower, and when I come out, I use one of De La Heart's cold-pressed organic oils ($14 each; delaheart.com). I lie with my legs up against the wall for 10 or 15 minutes and drain my legs with my De La Heart paddle."
On her private sessions
"A one-to-one with me starts with essential oils, some palo santo to get into the groove, and sharing intentions so that the space and energy are prepared and activated to flow. Depending upon the vibe, sweat, lots of breathing, and conscious movement will happen. From a short flow to a longer routine, my classes are all about staying present and true to the version of yourself that you are in, in the present moment. We always end the class with cold towels infused with essential oils and chanting mantras to wrap it up and get on with our day, feeling aligned and very much Zenned out."
On flexibility
"To me, 'not being flexible' is bullshit, honestly. You don't have to be flexible. You gain that flexibility with your practice. The only place that you have to be flexible, in order to advance in a practice like yoga, is in your head. Be open and receptive, and don't lock yourself into the thought that 'I'm not flexible,' because the more you repeat it to yourself, the less flexible you're going to become."
On prioritizing yourself
"When you work as a trainer, you are constantly giving your energy out, and you're constantly taking care of other people. I've become the person that people go to, like, 'Annie, I can't sleep. What do I do, Annie?' 'I have this pain in my knee. What do I do?' It's easy to get lost in the way of giving out and not giving to yourself. I've really relied on meditation, journaling, and doing my own practice before I practice with Dua. It took me a good few months to find that perfect balance, where I'm giving out equally as much as I'm giving myself. My advice is to establish that conversation with yourself where you really ask what can help you come back to yourself. Find that thing that can be your anchor and can bring you back into the right headspace."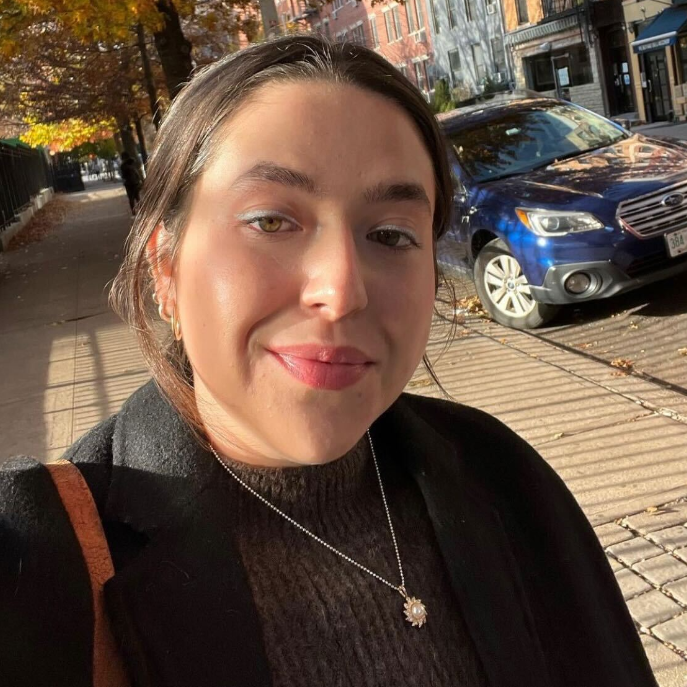 Assistant Beauty Editor
Emily Burns is the assistant beauty editor at ELLE Magazine. When she's not writing, she's probably drinking an Aperol spritz and cuddling with her cat Wednesday….or scheming how to date Pete Davidson.
Products You May Like