Fisk University Is the First HBCU Gymnastics Team to Compete at the NCAA Level
Image Source: Courtesy of Fisk University
Earlier this year, Nashville's Fisk University announced it was launching an intercollegiate women's artistic gymnastics team — the first of its kind at a historically Black college and university (HBCU). Corrinne Tarver, the first Black gymnast to win an NCAA all-around championship, will lead the team as head coach.
Tarver won the NCAA all-around title in 1989, and she was the University of Georgia's first Black gymnast. She was named to the senior US national team in 1985 and 1986 and served for three years as the assistant gymnastics coach at the University of Pennsylvania. She's been at Star Bound Gymnastics Academy for seven years.
Tarver tells POPSUGAR that Fisk plans on competing in NCAA Division II. She's already started in her role at Fisk and is actively recruiting gymnasts, most of whom are incoming freshmen competing at level 10 in USA Gymnastics (although that's not an outright requirement). Tarver is hoping to have announcements about signees, transfers included, for the inaugural 2023 season within the next month or so. There will be athletic and academic scholarships.
Tarver hopes to bring the lessons she learned from her NCAA experience to the new team at Fisk, including how to exude confidence and believe you're capable of anything. Being on that Georgia team led by former head coach Suzanne Yoculan Leebern, Tarver says, taught her the importance of support and holding athletes accountable for their contributions. "The goal is to have athletes that are going to come in and want to work hard and have pride in themselves, in their sport, in their family, in their institution — and want to represent all of those people to the highest of their ability," she says.
It's always been Tarver's goal to be a role model. "If you tell me I can't, I'm going to prove you wrong. And if people think I shouldn't, then I'm going to prove why I should. I think that we need to be able to show that an HBCU can add a sport like gymnastics and can be successful doing it," she says.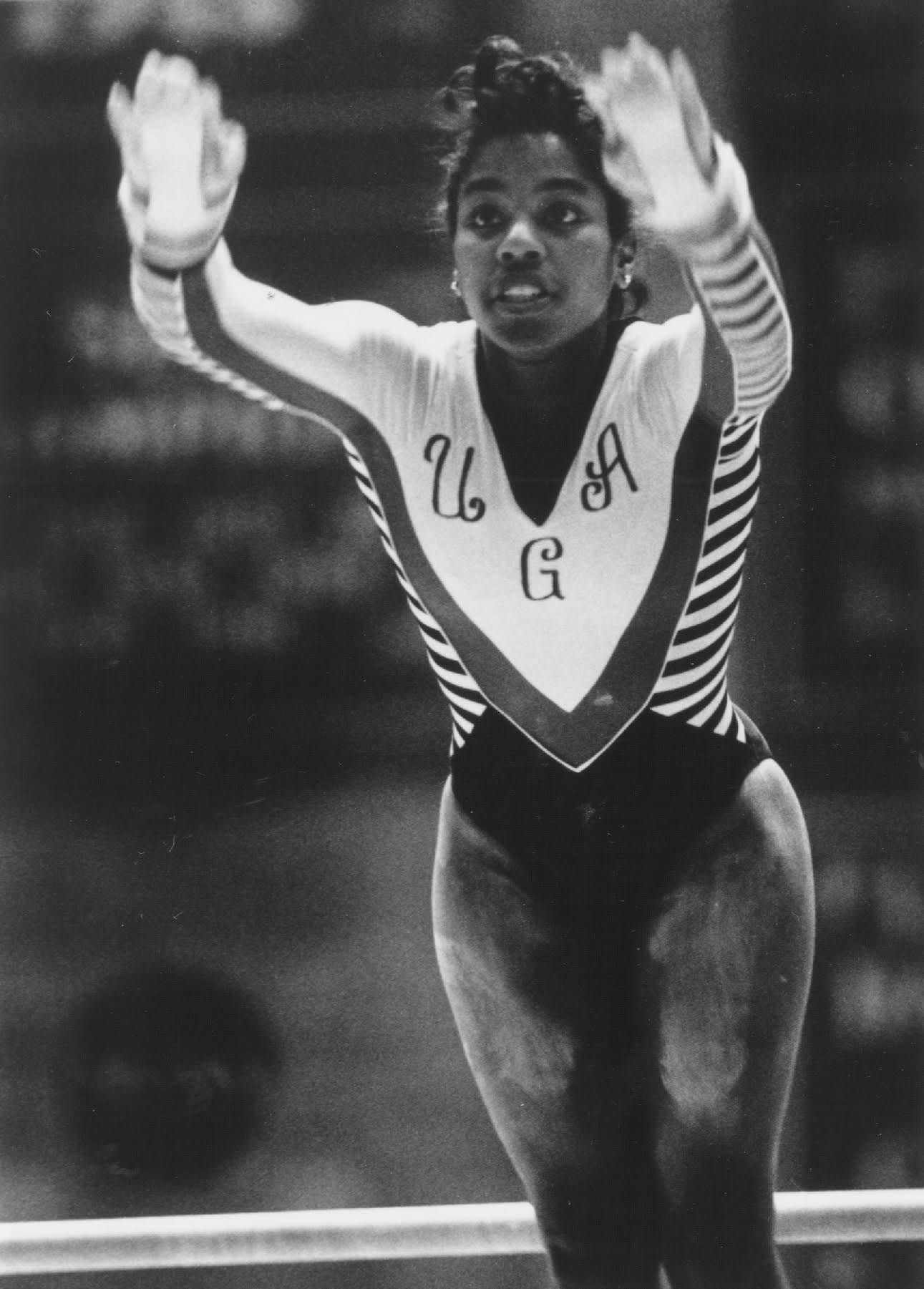 Photo: Corrinne Tarver, then Corrinne Wright, competing for the University of Georgia. Image source: Courtesy of University of Georgia Athletics.
Brown Girls Do Gymnastics (BGDG) helped advocate for this historic step at Fisk University. BGDG founder Derrin Moore tells POPSUGAR that she and the nonprofit's advisory council (including Rutgers Gymnastics head coach Umme Salim-Beasley) began talks with Fisk last November, so the process of locking down a gymnastics program was quick. But BGDG has been advocating for gynmastics programs at HBCUs for the last seven years.
"For so long, gymnastics has been seen as a white-dominant sport."
"For so long, gymnastics has been seen as a white-dominant sport," Moore says. "And for so long, even the Black community has looked at gymnastics as a sport that's not for Black folks." Tarver agrees, saying that she believes her generation led the charge for the shift in the sport's perception. Dominique Dawes and Betty Okino were the first Black gymnasts to win Team USA Olympic medals in 1992, and Tarver thinks the biggest change took place two decades later in 2012, when gymnast Gabby Douglas became the first woman of color and the first Black woman to win the Olympic all-around title. Tarver also points to record-setting Simone Biles, for obvious reasons (she's the GOAT).
Beyond the elite level, many Black gymnasts are at the forefront of NCAA gymnastics. Take UCLA alum Nia Dennis and current UCLA members Jordan Chiles, Chae Campbell, Margzetta Frazier, and Sekai Wright. This season also has Florida's Trinity Thomas and Nya Reed, Denver's Lynnzee Brown, Auburn's Derrian Gobourne, University of Minnesota's Mya Hooten, and more. Their routines have gone viral and helped widen the fanbase of college gymnastics far beyond self-proclaimed "gym nerds." Generally speaking, however, Black gymnasts continue to face a culture of racism within the NCAA (read up on the reported turmoil at UCLA early this season), and an NCAA database reported that they still made up only eight percent of gymnasts across divisions in 2021.
Tarver plans to work with BGDG to start gymnastics programs at other HBCUs. "We just need one," Moore says. "We just need one, and then the others will follow." Tarver notes, "There are so many young Black athletes out there and gymnasts, specifically, and many of them would love the opportunity to go to an HBCU — but they can't if they want to do the sport, because it's not available. That needs to change." Both Tarver and Moore hope the program at Fisk is just the beginning.
The post Fisk University Is the First HBCU Gymnastics Team to Compete at the NCAA Level appeared first on Fashion News.
Products You May Like